Dorchester Town Council Heritage and Tourism Project Manager Trevor Hedger, recently appointed to produce a heritage and tourism strategy for the town, presented a draft of the plan at the February networking breakfast.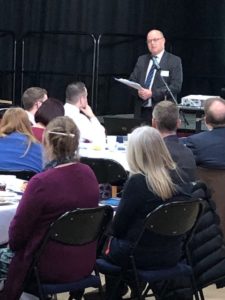 In a town with a rich heritage the aim is to exploit what Dorchester has to offer, whether it is historic monuments, museums, gardens or urban parks.
Trevor Hedger said: "While Dorchester has benefited from a number of events in recent years, from the Dippy tour and re-opening of the Shire Hall it is important to develop a plan to gain from heritage tourism on a continual basis. Many people visiting the town do not realise what Dorchester has until they arrive and we need to change that."
A steering group has been set up to create the plan which will incorporate the vision for the town, developing the brand to allow people to share and use common values and producing a marketing strategy.
Chamber president Steve Farnham added that Dorchester has a wonderful heritage which has helped the town over the past few years.
Held at the Corn Exchange in Dorchester the breakfast was sponsored by Humphries Kirk.
Camilla Call, Brexit Advisor from Dorset Chamber of Commerce & Industry also spoke about the support available to Dorset businesses following Brexit. Camilla is available to provide support on a host of areas, including trade enquiries, custom reports and issues around citizenship, during the transition period.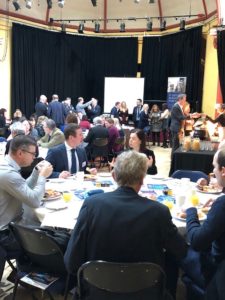 The March Chamber networking breakfast will be held on 10 March at Carluccio's in Brewery Square. To book a place and to find out more click here.