Training for Results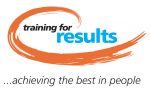 Business Name:
Training for Results
Long Business Description:
We develop sustainable learning partnerships with businesses committed to growth by inspiring and supporting the highest achievable performance in their teams.
You know that in order to successfully grow your business, your team needs to be able to keep up to speed with you. What you don't want to have are your people holding you back through misunderstood communication, lack of leadership, skills shortages or reduced performance.
What we do is ensure you have a fully engaged, responsible and competent team, with the right knowledge, skills and attitude. This means your business and people grow together for increased productivity and profitability.
Our promise to you is that we will provide a unique learning experience with practical application. We will deliver memorable training, coaching or facilitation; that gives you results, meets the specific needs of the individual and your business; and offers exceptional value.
Send Message to listing owner