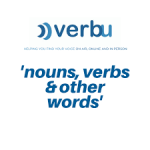 Long Business Description
AUTHENTIC COMMUNICATION
I've been coaching speakers and communicators for a quarter of a century – and as an experienced speaker, I've 'walked the walk' as much as I've 'talked the talk'. In a post-Covid world (ish), communication has never been more important – for business growth (both online and increasingly in person), social success (as the likes of weddings and best man's speeches return) and as Zoom conferencing and company podcasts become a necessity to broadcast your message effectively and with clarity.
​I offer a unique skillset from the 'sharp end' of radio – as a presenter and as a producer – guiding some of the UK's top broadcasting talent and as a business person and managing director; at ease in a networking breakfast, conference or sales pitch.
​Verbu provides one-to-one training, half-day trainings with small groups and both podcast and broadcast guidance. With a fully equipped studio, we can produce it all for you, if you wish!
VERBU – Helping you find your voice – On-Air, Online and In Person.
Send Message to listing owner