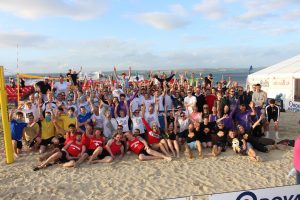 More than 200 local business people dressed in feathers, masks and glitter descended on Weymouth's sands last month to battle it out in a beach volleyball contest like no other.
The annual event, which is organised by Battens Solicitors saw 32 teams of six players from local businesses embrace a carnival theme and take to the court to help raise £1,000 for charity.
After a fun-filled evening of back-to-back matches, New Look emerged triumphant, just pipping fellow finalists, BPL Solicitors to the post.
"New Look has supported the Battens event and its good causes since it started," said New Look's Matt Board. "We're proud to have finally won, especially in the 10th anniversary year. Both teams had a great night and as always there was a great atmosphere off the court too mixing with all the local business teams."
Lou Bird, Marketing Manager at Battens Solicitors said it was a day to remember. "We wanted to mark the tenth anniversary of Battens' Volleyball Tournament by doing things a little differently, so we asked teams to nominate charities close to their hearts, and drew the winning charity's name on the day. It worked really well. The atmosphere's been electric, and I'm thrilled to say that now since this tournament began in 2008, it's raised £10,000 for local causes – a phenomenal achievement anyone who has ever taken part can be proud of."
Battens Solicitors, which also has its own charitable foundation, is an ardent supporter of community events. Funds raised from this year's tournament will be donated to Hangers Heroes which raises money for local charities through their Heroes Challenge Walk/Run, being their main event, with other fundraising events organised whenever possible.
Businesses that took part in the Battens Volleyball Tournament 2017, included Active Fitness Club, Agincare, Albert Goodman, ASM,BPL Solicitors, Carpets Select, Conceptai, Dorset County Council, Dorset Echo, FGP Systems, Freeman Baker, GJ Owens Electrical Contractors, Goadsby, Nantes, New Look, Old Mill, Parkers Estate Agents, Redlands Community Sports Hub, Royal Air Force, Spirare, Symonds & Sampson, The Pet Experience, Weymouth Civil Service Sports Council, Weymouth Family Church, Weymouth Lifeboat and Weymouth & Portland National Sailing Academy.